So the last time I did one of these, I was reading through Candis Terry's Second Chance at the Sugar Shack.  I finished that and really enjoyed it.  Not QUITE as much as her Sweet, Texas series–but it's really hard to beat the Wilder brothers.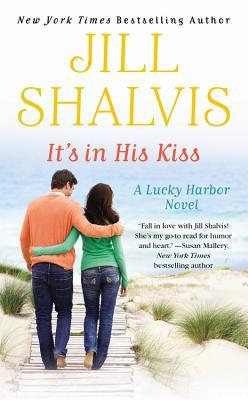 After that, I picked up Jill Shalvis' latest Lucky Harbor novel, It's In His Kiss for my drive down to the coast.  Really enjoyed this one.  Lucky Harbor has been kind of hit or miss for me the last couple of trilogies' worth.  I always enjoy the town and the characters, but some of the plots feel stronger than others.  This one was definitely one of the stronger ones, I thought.  Sam was absolutely that caretaking hero type I love.  And Becca was a really nice blend of strength and vulnerability.  As I did this one in audio, it's worth noting that the narrator was fabulous and funny.
ONE KISS CAN LAST FOREVER
Becca Thorpe has uprooted her life and escaped to the beach. Now's her chance to get away from city living, throw caution to the ocean winds, and live in the moment. Especially if the moment includes the deliciously sexy surfer she meets shortly after arriving in Lucky Harbor. Something about the dark intensity of Sam's eyes and the thrill she gets at his touch convinces her to stay awhile.

Boatbuilder and investment genius Sam Brody is a self-made man who knows how dangerous it can be to mix business and pleasure. But he can't resist offering Becca a job just to hear her laugh and have her near. Yet when her brother comes to town asking for help, will he tempt her back to her glamorous life in the city? Or do Sam and little Lucky Harbor have a chance to win Becca's heart?
In e, the next thing I picked up was Molly O'Keefe's Wild Child.  I got a chance to hear Molly speak at RT this year and found her hilarious and delightful.  Wild Child is a testament to that (though there's a dark thread to the shero's story that's really appealing).  I'm still only a third into it (work has been INSANE and I've been trying to finish TY), but loving it.
Monica Appleby is a woman with a reputation. Once she was America's teenage "Wild Child," with her own reality TV show. Now she's a successful author coming home to Bishop, Arkansas, to pen the juicy follow-up to her tell-all autobiography. Problem is, the hottest man in town wants her gone. Mayor Jackson Davies is trying to convince a cookie giant to move its headquarters to his crumbling community, and Monica's presence is just too . . . unwholesome for business. But the desire in his eyes sends a very different message: Stay, at least for a while.

Jackson needs this cookie deal to go through. His town is dying and this may be its last shot. Monica is a distraction proving too sweet, too inviting—and completely beyond his control. With every kiss he can taste her loneliness, her regrets, and her longing. Soon their uncontrollable attraction is causing all kinds of drama. But when two lost hearts take a surprise detour onto the bumpy road of unexpected love, it can only lead someplace wonderful.
In audio, I just finished Alison Kent's first Hope Springs novel, Second Chance Cafe.  I wanted to dislike this book because, dude, I was totally gonna use Hope Springs (that's what Wishful was originally called) and she beat me to it.  But ultimately, I really enjoyed it.  It was a really sweet story (though at times I felt the conflict was kind of reaching–it fell into that category of "Things that can be resolved with a proper honest conversation"), with another of those appealing, care-taking heroes.  I picked this one up through my month-long trial of Kindle Unlimited.  It's published by Montlake, Amazon's romance imprint, and I have access to both the e and audio versions.  Given my deep and abiding love of Whispersync, and the fact that the narrator was good, this made me really happy.  So now I'm trolling through the rest of Montlake's titles, seeing what else tickles my fancy.
Growing up, Kaylie Flynn was shuffled from foster home to foster home before being welcomed into Winton and May Wise's family. It was May who taught Kaylie the comfort of home, and the healing power of baking the perfect brownie. Years later, May leaves Kaylie the money she needs to open her own café in the charming Victorian house they once shared. Now back in Hope Springs, Kaylie's determined to finally make all her dreams a reality—and unearth answers to lingering questions about her past.

Soon, however, Kaylie's carefully laid plans take an unexpected turn. The house needs far more work than she realized, and Tennessee Keller, the carpenter Kaylie hires, is proving to be a very handsome and very unneeded distraction from her quest to uncover the truth about her parents. When a crisis threatens to destroy everything she's worked so hard to build, Kaylie must decide where her heart lies: with the ghosts of her past or the love and promise of her future.